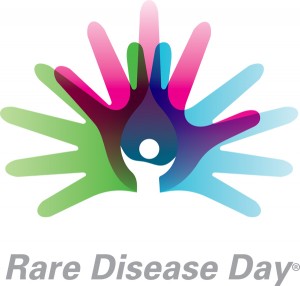 Dysautonomia International is pleased to partner with the National Organization for Rare Disorders (NORD) to celebrate Rare Disease Day today.  Did you know that overall, rare diseases are not that rare?
1 in 10 Americans has a rare disease.  That's over 30 MILLION people, and there are even more people with rare diseases around the world.  Two thirds of people with rare diseases are children.  There are over 7,000 identified rare diseases and new diseases are discovered every year.
What is a "rare" disease?
In the United States, a disease is considered rare if it
is believed to affect fewer than 200,000 Americans.
The European Union considers rare diseases to be
those that impact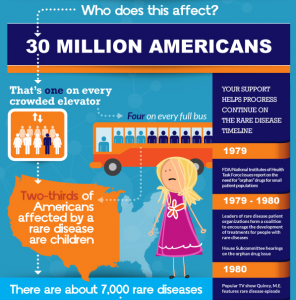 fewer than 1 in 2000 individuals.  Other countries have similar definitions.
What are some examples of rare diseases?
Rare diseases are present across the spectrum of medical conditions.  Most types of cancer are rare diseases. There are also rare neurological and neuromuscular diseases, metabolic diseases, chromosomal disorders, skin diseases, bone and skeletal disorders, and rare diseases affecting the heart, blood, lungs, kidneys, and other body organs and systems.
Within the realm of autonomic disorders there are several rare diseases such as Autoimmune Autonomic Ganglionopathy, Multiple System Atrophy, Pure Autonomic Failure, Familial Dysautonomia, and Dopamine Beta Hydroxylase Deficiency.
What are some of the problems experienced by people who have rare diseases?
Difficulty in obtaining an accurate diagnosis
Limited treatment options
Little or no research being done on the disease
Difficulty finding physicians or treatment centers with experience in treating a particular rare disease
Treatments that are generally more expensive than those for common diseases
Reimbursement issues related to private insurance, Medicare, and Medicaid
Difficulty accessing medical, social, or financial services or assistance because those making the decisions are not familiar with the disease
Feelings of isolation and of having been abandoned or "orphaned" by our healthcare system
What can you do to help?
Share this blog post on social media or e-mail today.  For a list of other easy ideas to help spread the word about Rare Disease Day, you can visit the following websites:
U.S. Rare Disease Day website
Global Rare Disease Day website








by




by