13-year-old Will Kenney and his mother Sandy Kenney recently reached out to Dysautonomia International with a unique proposal. They wanted their third annual "Will's Carnival for a Cause" at Chick Berry Farms in Laurel, Delaware scheduled for August 6, 2016 to benefit Dysautonomia International. We caught up with Will recently to learn about Will's inspiring efforts.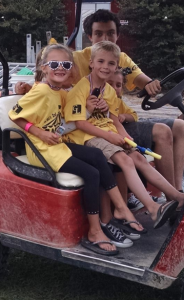 Q: How did you come up with the concept for Will's Carnival for a Cause?
A: In January 2014, I decided that I wanted to do something productive with my summer break instead of watching TV and playing video games. My mom was sharing Facebook posts about a two-year old girl, Stella, who has Sturge Weber Syndrome. Stella and her family donated the book "Sam's Birthmark" to local schools and libraries and super hero capes to children at A.I. Dupont Hospital. Stella and her family inspired me to want to help raise awareness and funds for the Sturge Weber Foundation. I also wanted to organize an event that Stella could enjoy. That's how I decided to host the first Carnival.
Q: How long have you been organizing this event?
A: This year's Carnival is my third event. Planning for the Carnival takes approximately six to nine months.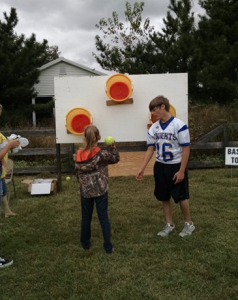 Q: What made you want to add Dysautonomia International as a cause you wanted to support this year?
A: The Carnival has been a huge success for the past two years, raising over $15,000 to benefit the Sturge Weber Foundation and raising much needed awareness.  I have a friend, Rita Chandler, who helped with the Carnival last year, who has postural orthostatic tachycardia syndrome (POTS). One of my mom's cheerleaders, Crystal Caldwell, also has POTS. I had never heard of POTS before, so I reached out to Dysautonomia International to learn more.  After learning about POTS, I decided to include Dysautonomia International as one of the organization's we're raising money for this year.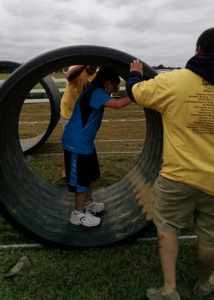 Q: What kind of attractions do you have at the Carnival?
A: The Carnival features games, a petting zoo, a hayride, pony rides, a duck train, a DJ, a bounce house, a dunking booth, food, face-painting, and a silent auction. The first Carnival had 16 games and the second Carnival had 23 games. I am planning on expanding this year's Carnival to include seven new games, more entertainment, and rides. I am working on making the Carnival bigger and better to support the causes that are important to me.
Q: How many people attend the Carnival?
A: The first Carnival had 150 guests, and the second Carnival had 300 guests. During both years, I had about 50 volunteers helping with the event.  We hope even more people will come this year!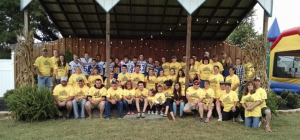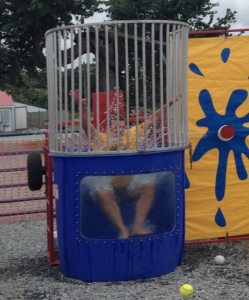 Q: Do you have any advice for other teens who want to start a fundraiser for Dysautonomia International?
A: Organizing and planning a fundraiser for an organization gives you a rewarding feeling because it gives you a chance to help and make a difference for so many people in need. I recommend thinking about an event that the community would enjoy and also one that would be fun to plan. I have a notebook that I use to continuously jot down ideas until I am ready to approach each one of them individually. Also, remember to get your community involved. Last year, we invited Miss Delaware, Brooke Mitchell, to join us at the Carnival. She was excited to be a part of it, meet the attendees, sign autographs. My local Councilman, Rob Arlett, volunteered to get in the dunking booth. I also recruited my football team and coaches to help. The football players especially loved it because they were helping move a great cause forward. My coaches also got in the dunking booth which was doubly fun. The Carnival has been so much fun to plan and it was a great way to meet a lot of wonderful people.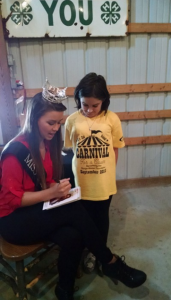 Q: If someone wants to donate prizes or volunteer during this year's event, how can they contact you?
A: You can make a silent auction donation or a prize donation for the children's games by contacting me via my Facebook page, Will's Carnival for a Cause. You can also email me at skenney86@yahoo.com. I am looking for rides and entertainment such as clowns, magicians, jugglers, etc. I welcome all your ideas and help!
Q: How can people attend the event? Do they buy tickets in advance and/or on site? How can we learn more about or get involved with Will's Carnival for a Cause?
A: To learn more about Will's Carnival for a Cause, like and follow my Facebook page. I am very excited about this year's Carnival. The Carnival is scheduled for August 6th, 2016 from 4pm-7pm. It will be held at Chick Berry Farm in Laurel, Delaware. Wristbands are $10 each which covers children's games, rides, and activities or tickets are $.50 each. Wristbands and tickets can be purchased on site at the Carnival.
As my friend Ruth Ann Marvel said, "Raising money is great, but raising awareness is priceless." And, as I have learned, one person can't move a mountain, but a village can. So, come be a part of my village.
We love this kid. Thanks Will, we'll see you on August 6th!








by




by